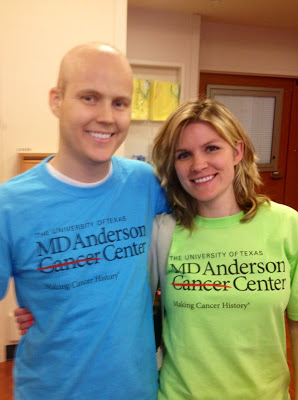 Marshall and AJ at the MD Anderson
Cancer Center in Texas.
I am a definite believer that people come in to your life for a reason. Enter Amanda (AJ) Hunt Jensen. But to me, she is Sister Hunt.
Sister Hunt and I were in the MTC together in Brazil. She entered after I did, but we still spent a good chunk of time together as there were not many sisters in the Brazil MTC at the time (although I'm sure it's much different now! Yahoo!) I think we kept in contact a little throughout the mission, but I wouldn't say it was regular contact. And afterward, we connected back up through the glory of Facebook. Even so, we still remained mostly Facebook friends. She got married. She graduated. She started a family and has an adorable little boy. And I was happy to see her life moving along.
But then I started reading her blog. In 2011, her husband, Marshall, was diagnosed with leukemia. I read through the many entries as they struggled and fought and tried treatments and he lost his hair and the crazy sadness of cancer for someone in his 20s. But he fought his way through and received a bone marrow transplant in 2012. Life started to look slightly up for AJ and Marshall. He started back in to school, started working a little bit. Recently, however, they discovered Marshall's leukemia had returned.
After many tests, they received the word that there was nothing more they could do here in Utah. Not the diagnosis they had hoped for. With hope in their hearts, they went to Texas to try an experimental drug treatment: immunotherapy. And there they are as we speak, hoping desperately to save his life.
I cannot pretend to understand what it must be like for Sister Hunt to be going through this. But she has been a strength all throughout and as stalwart as they come. I know this because recently, Sister Hunt entered back in to my life in a much more tangible way.
Late last fall, as I read how things were going on her blog, I started receiving a definite prompting that I needed to do something for her. It didn't need to be something big. I just needed to do something. But I didn't know what, and I didn't know how. I didn't know where she lived and I hadn't seen her in a long time. But the prompting was sure and I knew I would find a way.
Then in November, an event happened that shook the lives of a family I dearly love. A family and ward friend and neighbor died in a tragic plane accident in Morgan, Utah. Darren Tidwell was the father of six great children. His parents had been my home teachers for most of my teenage years. I had babysat his children when they were younger. Their family had supported our annual charity sale by serving for many years. He had been a great friend to my youngest brother and helped many young men through scouting. This shook me. It didn't make sense.
His viewing was on a Tuesday in November. Distraught and seeking some sense of peace, I had planned to go up to my hometown to attend the viewing and visit with the family.
That morning, at work, I received the definite prompting that on my way to the viewing, I needed to stop and visit Sister Hunt. Like I said, I didn't even know where she lived or what their situation was. But the prompting came more strongly. So I sent her a quick message and simply asked for her address.
That evening, I picked up some gift cards and found a little card to write a note. And I followed the GPS until I found her address. The lights were on. After I knocked nervously at the door, Marshall answered. He obviously didn't know who I was but I asked for Sister Hunt and I saw her and heard a loud, "Sister Stitt!" and then we quickly embraced. I stayed for a while and chatted and found out the update. Marshall had recently been very sick, but was just recovering, so it was good I had come when he was ok. But their situation was hard. They were starting to wonder how they were going to make it and Sister Hunt needed a job. I gave them the meager offering of my gift cards and told her I had just heard of a Portuguese speaking position with the Church. I referred her to it and told her I would contact the lead and give her a good recommendation. With that short visit, I left.
And I headed up to the viewing for Brother Tidwell. It was a hard evening overall for me and I spent a lot of time contemplating things on my long drive. Contemplating this life and the trials that don't make sense, but we know are for our good. I saw the sadness but desperation to feel hope from Sister Hunt. And I saw the sadness and desperation to feel hope from the Tidwell family.
What is the end of the story? Well there isn't an end. I recommended Sister Hunt for the position and she got the job with the Church. I kept in contact with her more frequently and we decided to meet up for breakfast more often, when she got off work and I went in to work. But we only made it once before things crashed down with the news Marshall had leukemia again. And now they are both in Texas for his treatments.
What the Spirit prompted me to do for Sister Hunt was not any amazing thing. Although I know it helped in some small measure, I also know I needed to learn something about me. I needed to learn the principle of helping people on our way.

I was disheartened at the thought of going to the viewing of a family friend. It was already a rough evening. The Lord knew it would be. Yet He asked me that night, specifically, to visit Sister Hunt. On my way.

As I thought about it, I realized that is how the Savior performed His ministry. He helped others on his way as He went about doing good. The scriptures are full of "in the mean time" and "as Jesus passed by."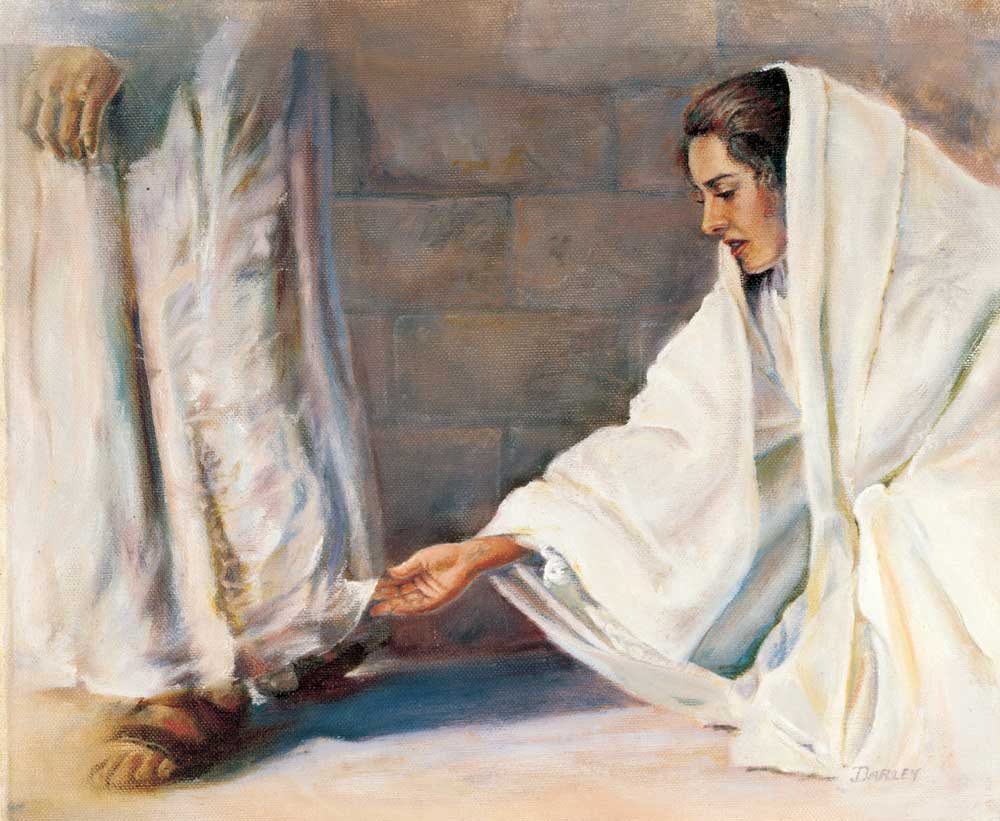 On His way to raise Jairus's daughter from the dead, He healed the woman with the issue of blood (Luke 8:41-48).
On His way.
On His way back to the Father, He pleaded for forgiveness for the sinners at His side. (Luke 23: 34). He asked for His mother to be taken care of (John 19: 27).
I too often wear my "busy-ness" as a badge of honor. And sometimes I use my personal struggles and sufferings as a time when I need to mourn and be comforted, and I forget to help others. But when life seems hard for me or even when I am fine, and it seems I am already on my way to do something good, or do something important, I hope that I will ever be willing to heed the Master's call to do even more.
As you are on your way this week, if you feel the need to reach out and help Sister Hunt and Marshall, I am assured they will be grateful for your love.
Donate to their Give Forward fund here.
Do you have an experience where you have helped others on your way to doing something else? Has someone helped you? Please share!
(Visited 21 times, 1 visits today)