"In Israel, in order to be a realist, you must believe in miracles." -David Ben Gurion, first Prime Minister of Israel (Interview on CBS, 5 October 1956)
Israel is an incredible place, full of history, layers, faith, miracles, conflict, destruction, rebuilding, ashes, beauty from ashes, holiness, and the beauty of holiness.
I don't actually know when my love for Israel and, naturally, Jerusalem began, but I find it hard not to love what you read about and gain faith in through the holy text of the scriptures. Thoughts of actually traveling to Israel likely came when learning about the BYU Jerusalem Center and when hearing from my Young Women president who traveled there. And when singing hymns and learning of the history of the world. And every Christmas and Easter as we focus on the life of Christ. It's part of my spiritual heritage and part of my life. In high school, I chose humanities projects that focused on religious aspects, such as artifacts from the times of Abraham. And I began to learn of other cultures that have heavily influenced the Holy City and Palestine. I studied the life of Mohammed and read parts of the Qu'ran. And in college, I learned more about religions through several classes. And finally an honors class called Jerusalem: The Eternal City cemented my love of and fascination for the area.
But up until 6 months ago, it was not in my plans to go anytime soon. It's not exactly the safest area in the world. And as much as I love studying things (and as much as my travels show to the contrary), traveling kind of makes me anxious. And I don't love love Middle Eastern culture. Mostly fascinated by it. But last year as part of work, I was asked to organize the Church's United Way Day of Caring. In taking this on, I worked with the chair of the Church's United Way campaign, Julie, who then became a good friend. Last fall, she somewhat randomly came by my office and said, "I want to go on a trip to Israel, and you're coming with me". Ok, so she asked instead of demanded. Dubious at first, but more intrigued as I thought about it, within about 2-3 weeks, I was sold. We'd found a tour group recommended by one of her friends. It sounded marvelous. Two weeks in Israel and Jordan. A small tour group of about 30 people. Traveling to places that most tour groups don't go to.
Skip ahead to March 2017 where I anxiously prepared for my trip. Our tour guide was Garland Dennett, who just does independent smaller tours. He worked for the state department in Israel many years ago (at the time the BYU Jerusalem Center got approved) and has traveled back many, many times giving many tours. He knows many people there and has an understanding and love of the country, people, and history that permeated through our tour. He has also become a master of the scriptures. Where you read scriptures in my journeyings, almost all are what we read in those places, as compiled by our guide. A select few are those I chose on my own to study about the places we traveled. I share them with you to help you feel what I felt.
My first leg of the flight was to NYC where I then ran into more people who were joining o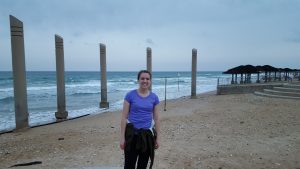 ur tour. Most were from the Utah, Idaho areas, most active LDS Church members. Some were from Utah, but living in Germany (and one from Italy) and they joined us when we arrived in Tel Aviv. Some families, some couples, a handful of us singles. And off we went. We immediately drove from Tel Aviv up north to Haifa, on the Mediterranean Sea.
Because some of us were crazy, and because sleeping is tough on international trips anyway, a few of us got up early the next morning and ran along the Mediterranean Sea. #worthit
And then we were off. I cannot share all that I saw, heard, and felt (I have about 1000 pictures and stories from the entire Bible + the beginning of the Book of Mormon) but I hope you will get a glimpse of the wonders of Israel.
Caesarea Maritima
Caesarea Maritima was one of Herod's strongholds. This place contains the first (in recorded history) use of hydraulic concrete, which cemented the walls of the breakwater. A plaque with Pontius Pilate's name on it is found here, as this place was the seat of Roman governors.
But the beautiful part of this place is the conversion of the first gentiles to the gospel.
Acts 10
"There was a certain main in Caesarea called Cornelius, a centurion…A devout man, and one that feared God with all his house, which gave much alms to the people, and prayed to God alway. He saw in a vision…an angel of God coming in to him, and saying unto him…Call for one Simon, whose surname is Peter."
Peter, meanwhile, received the vision of the unclean beasts, a vision in which he learned it was time for the gospel to be spread to the gentiles: "What God hath cleansed, that call thou not common." So when Cornelius's friends came down to Joppa, "the Spirit said unto him [Peter]…go with them, doubting nothing: for I have sent them." Cornelius gathered friends and family awaiting Peter's coming, and when Peter arrived, he met a people prepared to hear the word. As the Holy Ghost fell upon them, Peter "commanded them to be baptized in the name of the Lord."
Acts 24-26
This is also the place where Paul appealed unto Herod Agrippa for his life. Here Paul shares the miraculous story of his conversion, of his vision, and of the words he heard from Christ, whose mission Paul had learned on the road to Damascus "To open their eyes, and to turn them from darkness to light, and from the power of Satan unto God, that they may receive forgiveness of sins, and inheritance among them which are sanctified by faith that is in me."
Paul must have been a miraculous teacher and testifier, as Agrippa responds, "Almost thou persuadest me to be a Christian" (Acts 26:28).
From here Paul was sent to Rome for further trial.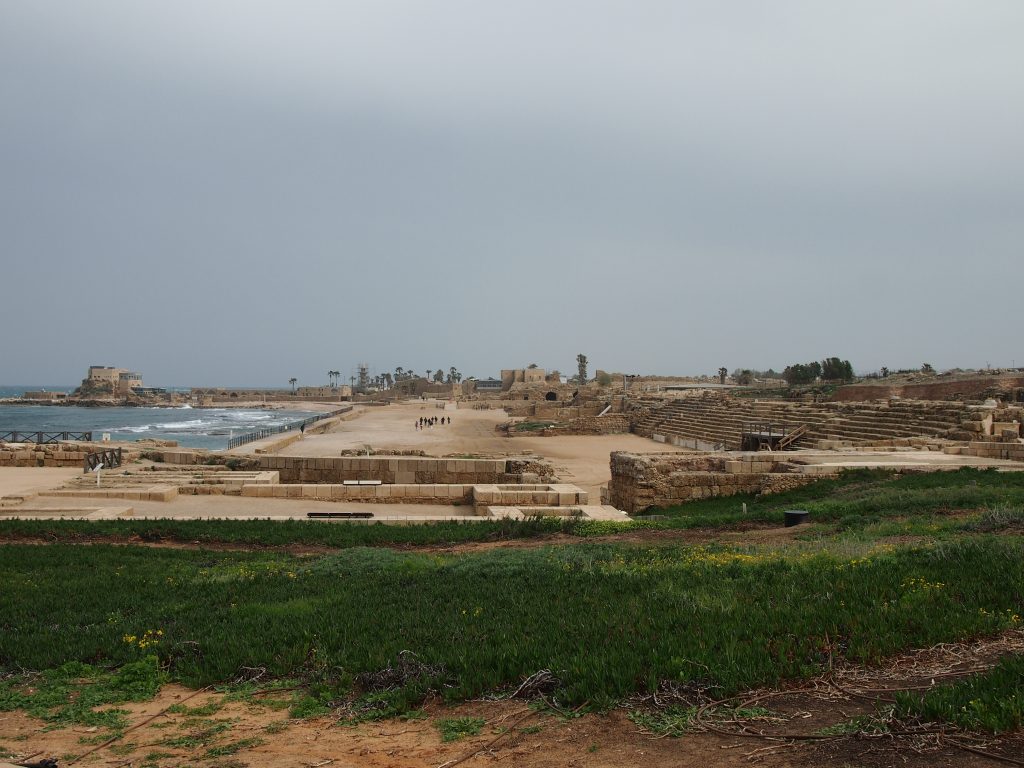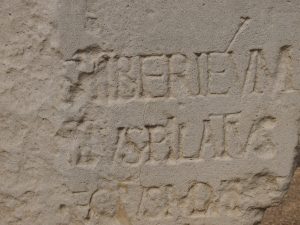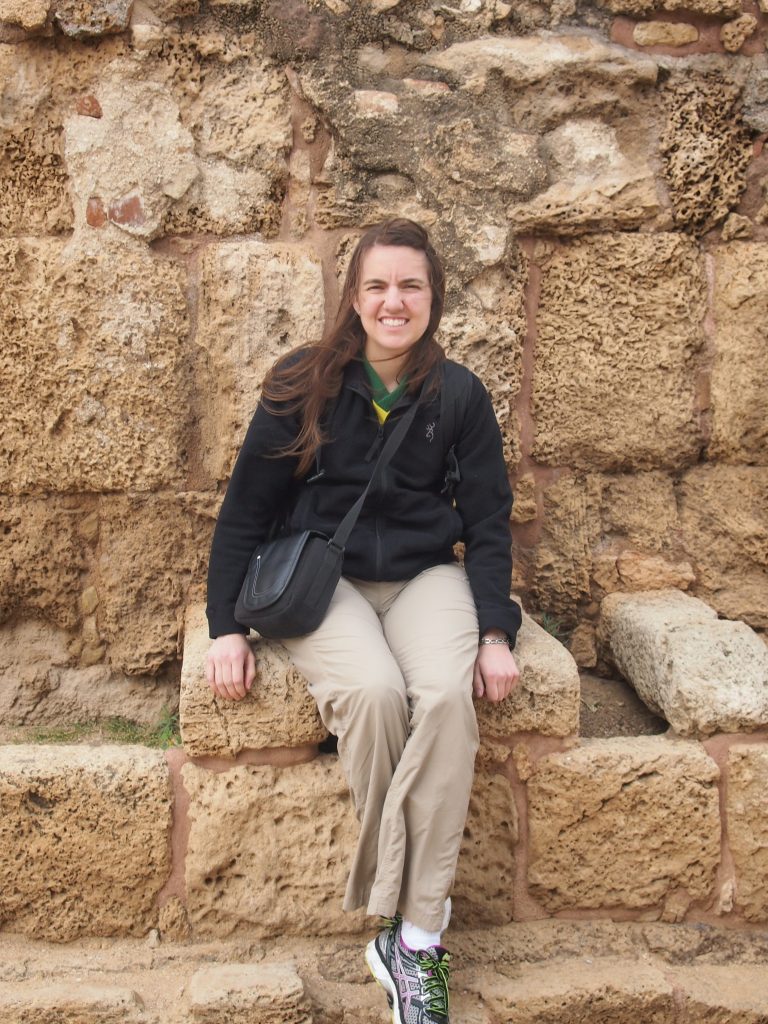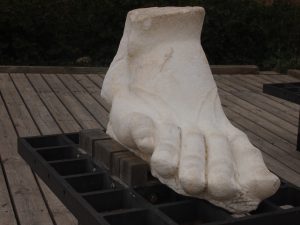 Haifa
Haifa is a city of about 500,000 people with a mix of ethnicities. According our local guide, it's one of the most peaceful cities in how the different groups get along and work together. Haifa is bordered by the Mount Carmel National Park. Of interest in the city is a little German Cemetery. Two missionaries of The Church of Jesus Christ of Latter-day Saints are buried here. Adolf Haag was called from Germany to serve the German-speaking Christans in Haifa. He died of typhus in 1892. Later, John Clarke of Farmington, Utah, died of smallpox in 1895. He served the Arabic-speaking Christians. This surprising (to me) find reminded me even more of the long-time interest we have held in Palestine. These graves helped show the Church's early presence in Palestine when looking to build the BYU Jerusalem Center many years later.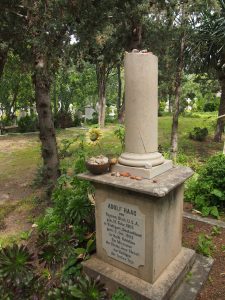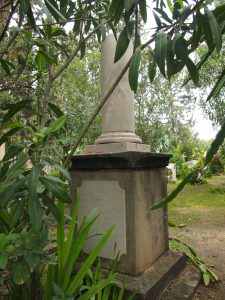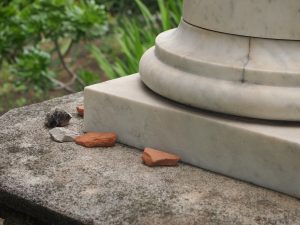 Mount Carmel and Muhraqa
The Mount Carmel National Park extends from Haifa inland and overlooks the Jezreel Valley. The park is so beautiful and peaceful. I was surprised overall at how beautiful Israel was, considering it is a desert-y area. We'll get to the barren desert wastelands, but March is a beautiful time to visit because everything that could ever be green, is green.
Muhraqa is a Catholic Monastery that is built on Mount Carmel, with several indications that it is really the Mount Carmel of the Bible. Here Elijah contended with the priests of Baal. I have heard this story for so many years in seminary, institute, and gospel doctrine. But I suddenly connected the story in a way I hadn't before. I was so moved, that I spent some time walking alone through the gardens of the monastery to further contemplate. This was something that continued throughout my trip, and provided some of the most sacred moments as I learned to feast on the words of the scriptures.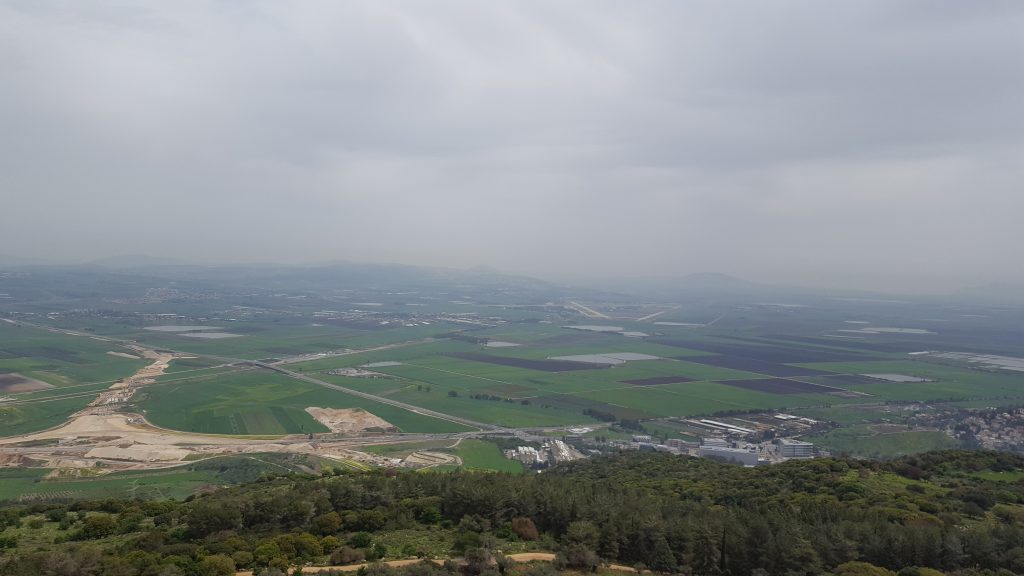 1 Kings 18
"And Elijah came unto all the people, and said, How long halt ye between two opinions? if the Lord be God, follow him: but if Baal, then follow him." Elijah then put forth a test for the priests of Baal. The priests of Baal put their bullocks upon wood and called for fire, but nothing happened. Elijah then built an altar of 12 stones, put down his wood, covered the sacrifice with water again and again and again, enough to fill the trench and "the fire of the Lord fell."
Yet even after this miraculous experience, Elijah's life was in danger and he was discouraged. "But he himself went a day's journey into the wilderness, and came and sat down under a juniper tree: and he requested for himself that he might die; and said, It is enough; now, O Lord, take away my life; for I am not better than my fathers."
Discouraged, distraught, and wanting to die. This was God's prophet. Why was he distraught? "The children of Israel have forsaken thy covenant, thrown down thy altars, and slain thy prophets with the sword."
With mercy, an angel came to him and said, "Go forth, and stand upon the mount before the Lord. And, behold, the Lord passed by, and a great and strong wind rent the mountains, and brake in pieces the rocks before the Lord; but the Lord was not in the wind: and after the wind an earthquake; but the Lord was not in the earthquake: And after the earthquake a fire; but the Lord was not in the fire: and after the fire a still small voice."
I've heard this scripture so many times in reference to how the Spirit speaks. But here, on Mount Carmel, I read this scripture in the understanding of a prophet of God who was suffering because of the wickedness of the people. And how did the Lord reach out to him? A still, small voice. That is where He is. He cares about the sad, the discouraged, and the lonely.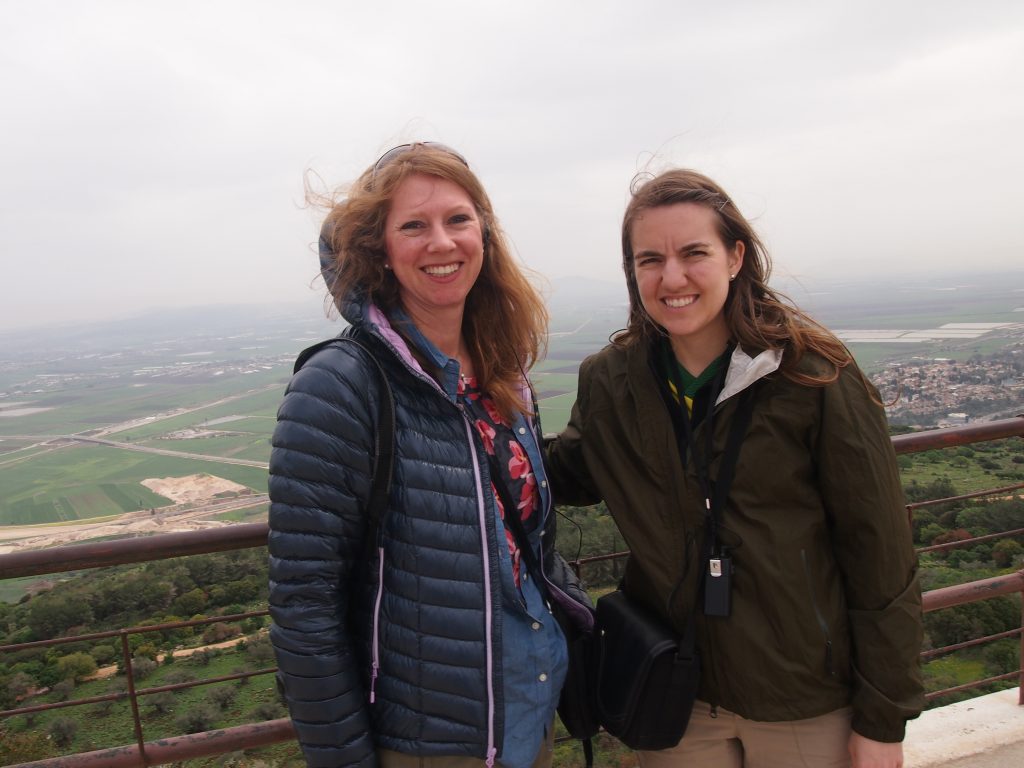 Nazareth
From Mount Carmel, we drove to the city of Nazareth, which is an Arab city. Not much really resembles anything of what it would have been like at the time of Christ, as you would expect. The Church of the Annunciation is built over some of the ruins of ancient Nazareth. The town would have been about 400 people at the time of the annunciation.
So many questions filled my mind: What would that have been like for Mary to be in a small town, in a culture steeped in religiosity and obedience, to suddenly be with child through miraculous, but perhaps unbelievable means? What kind of faith did Mary have to be the handmaid of the Lord? What kind of parents did she have that did not cast her out? What kind of man was Joseph to have been chosen as her protector and thus the protector of the Savior? What kind of faith did they have to take on the scorn they must have felt and believe in God? What must the scorn have been like for her to need to leave and visit Elisabeth? What kind of woman was Elisabeth to immediately love her cousin and believe her? I love all of them for what they did to bring our Savior to the earth in peace. I have always loved the story of Mary. She is an example of faith among women to simply believe and to accept what the Lord had given her to do. (And, of course, I love her cousin Elisabeth, too). #sheshouldhavespelleditwithaz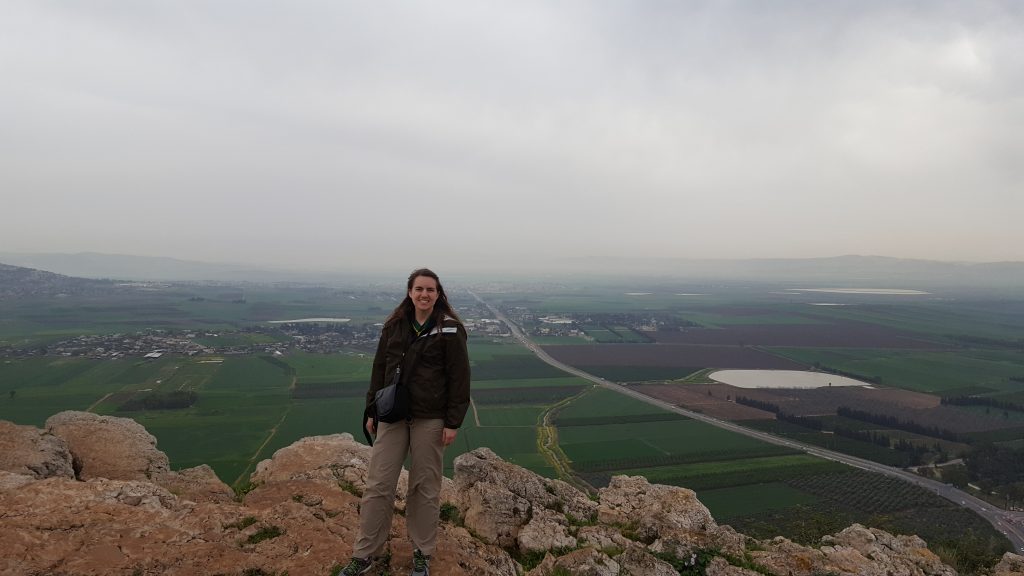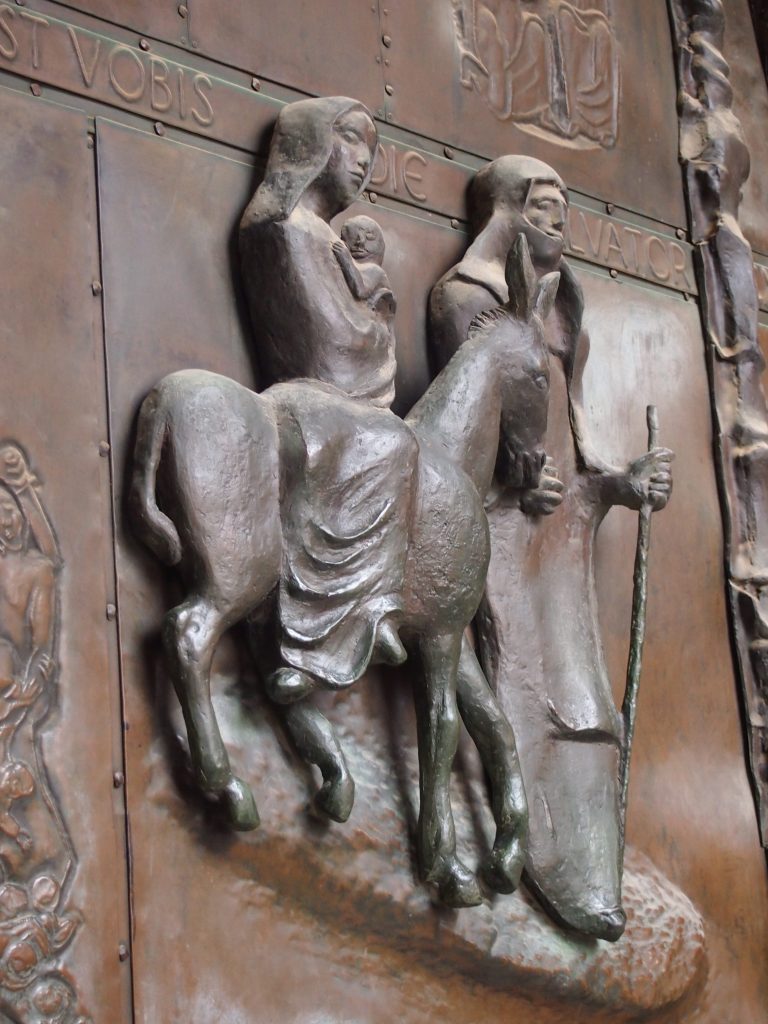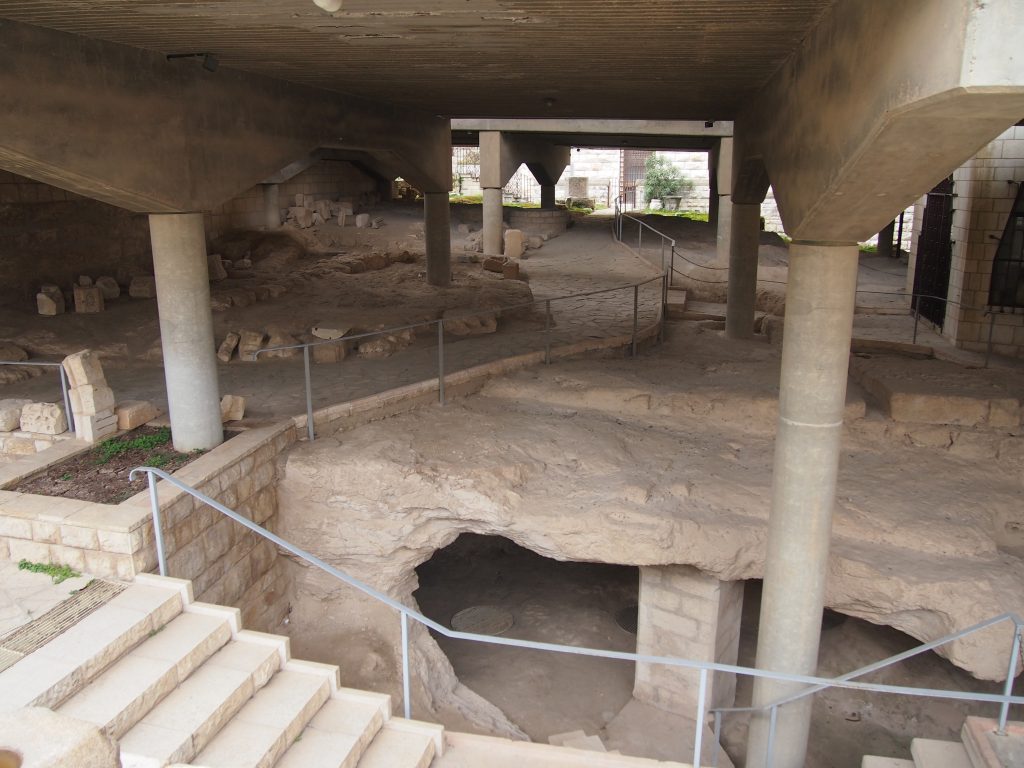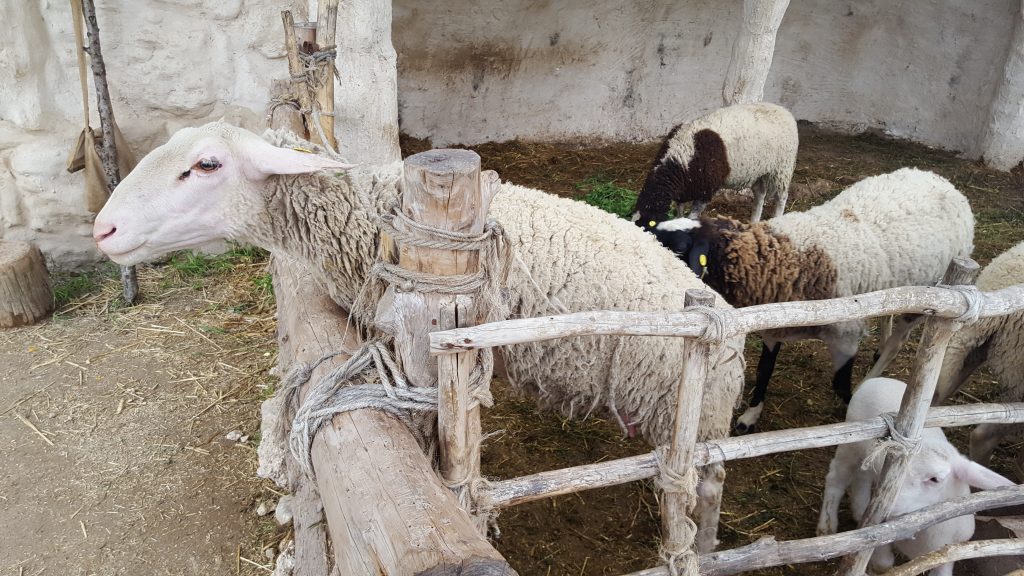 Here in Nazareth was where an angel announced that the long-foretold Messiah would come "He shall be great, and shall be called Son of the Highest" (Luke 1:32) and where Mary proclaimed "Behold the handmaid of the Lord" (Luke 1:38). From Nazareth, Joseph and Mary left to Bethlehem and returned to permanently after they had gone to Egypt and the Lord told them it was safe to return. Here in Nazareth was where Jesus learned the law and the prophets. Here in Nazareth is where he "grew, and waxed strong in spirit, filled with wisdom: and the grace of God was upon him" (Luke 2:40) and "increased in wisdom and stature, and in favour with God and man" (Luke 2:52). Here in Nazareth, "his mother kept all these sayings in her heart" (Luke 2:51).
And here, in the synagogue, Christ revealed His mission of accomplishing the Atonement, by reading from the book of Isaiah (and I bring in Isaiah's words because they are more complete).
"The Spirit of the Lord God is upon me; because the Lord hath anointed me to preach good tidings unto the meek; he hath sent me to bind up the brokenhearted, to proclaim liberty to the captives, and the opening of the prison to them that are bound; To proclaim the acceptable year of the Lord, and the day of vengeance of our God; to comfort all that mourn; To appoint unto them that mourn in Zion, to give unto them beauty for ashes, the oil of joy for mourning, the garment of praise for the spirit of heaviness, the planting of the Lord, that he might be glorified" (Isaiah 61:1-3).
"This day is this scripture fulfilled in your ears" (Luke 4: 21).
Extras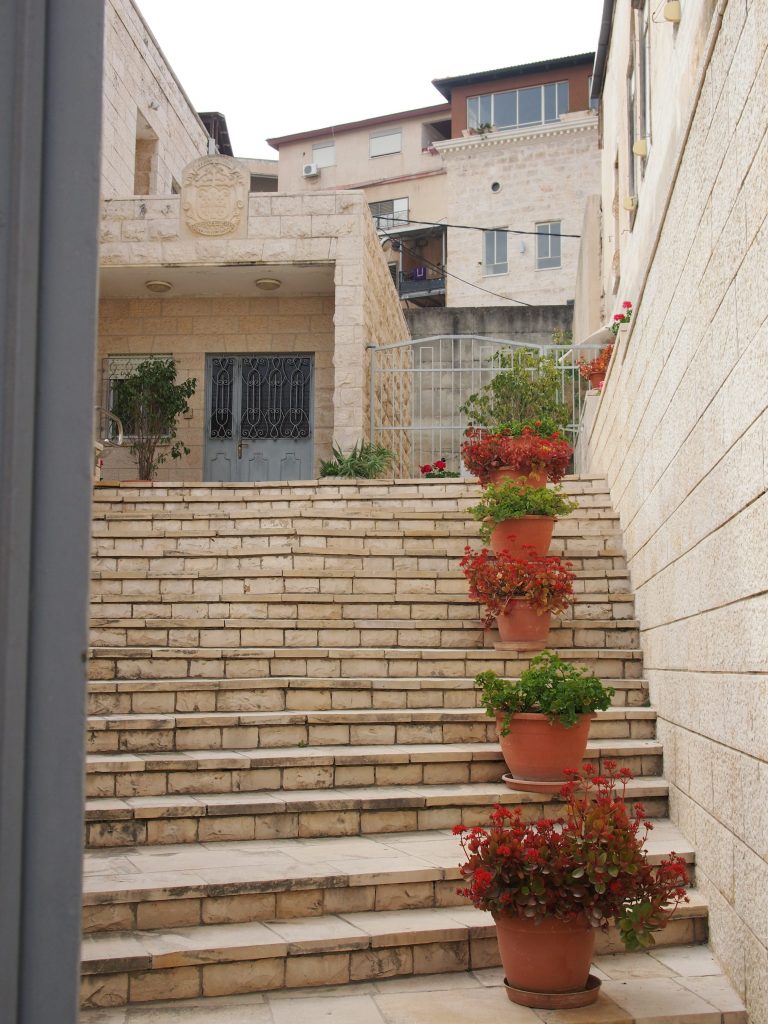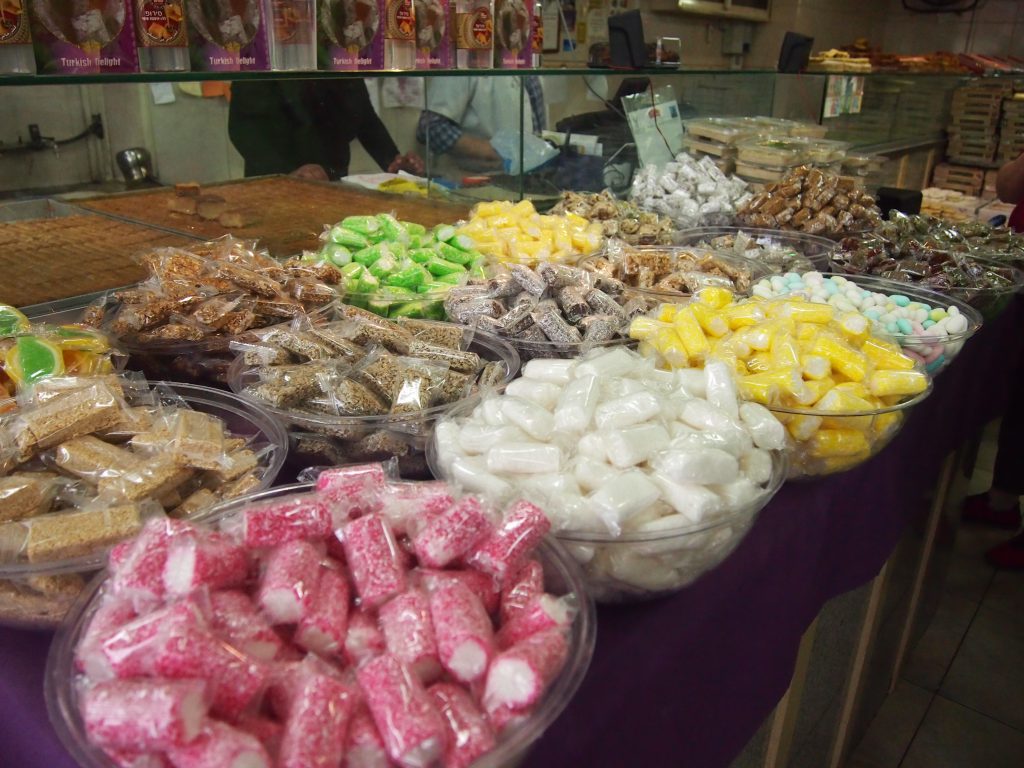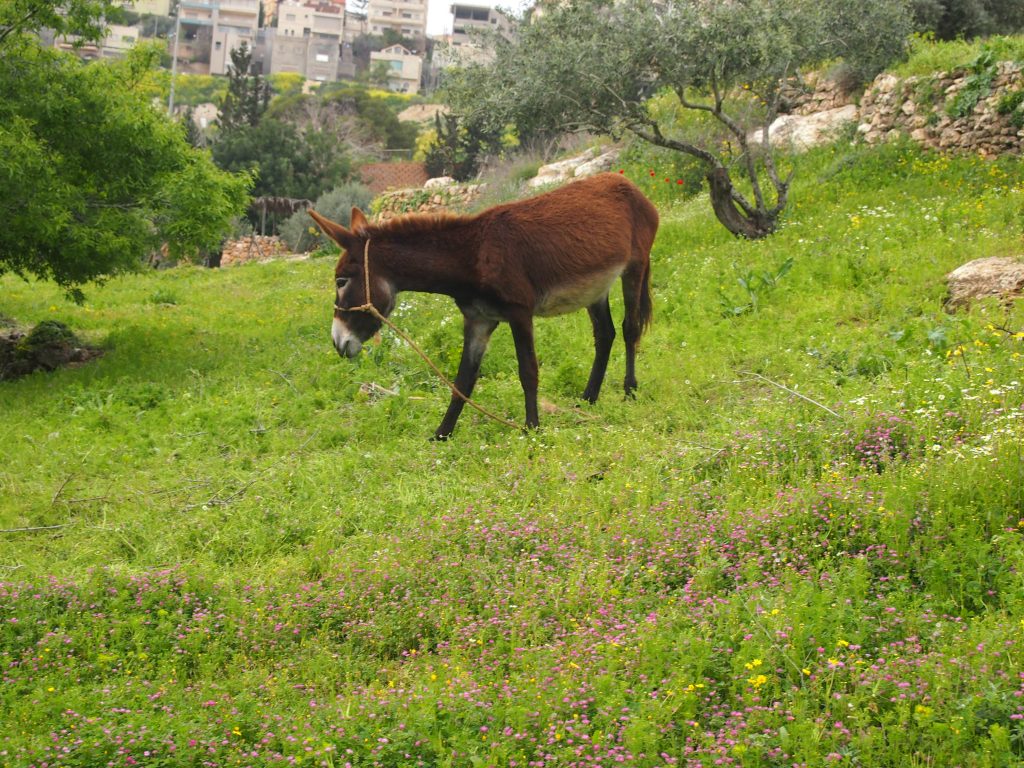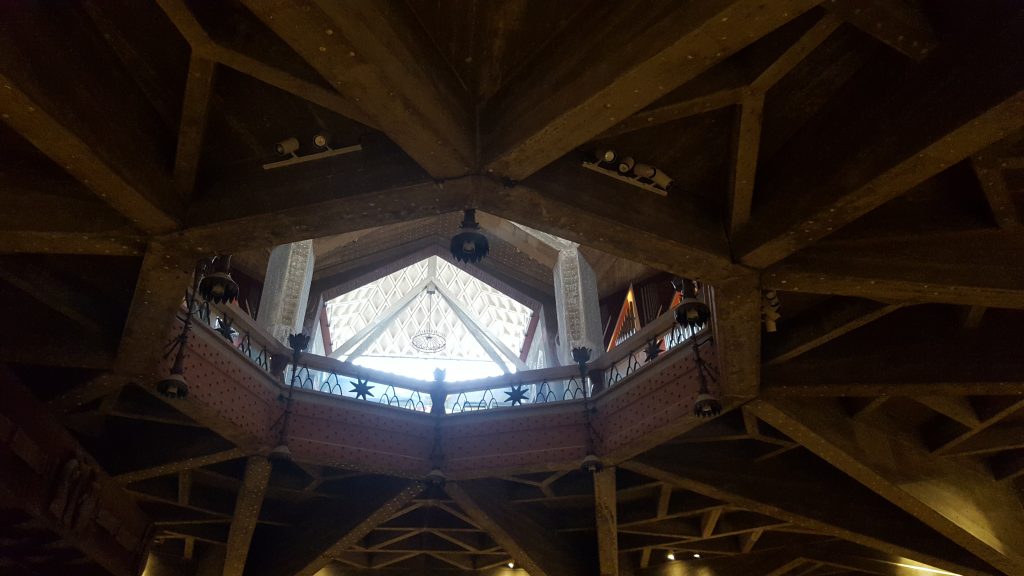 Inside the Church of the Annunciation in Nazareth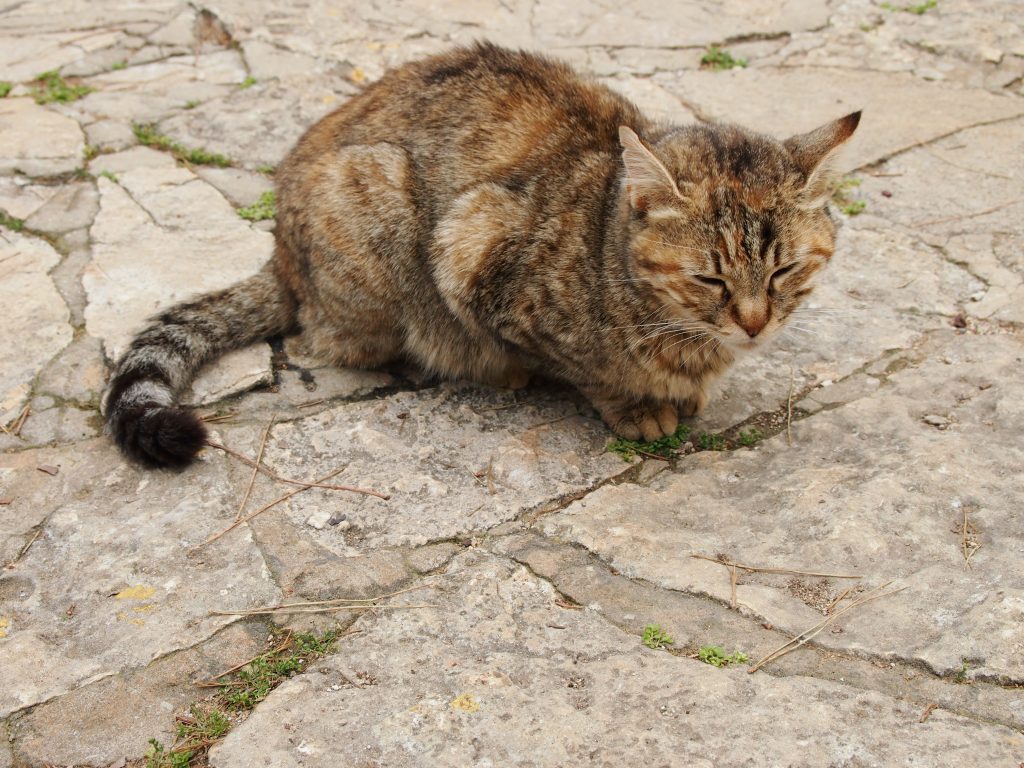 (Visited 369 times, 1 visits today)