One year ago, I made the crazy, but fun, decision to buy my own home.
I have always (and still) love to look at homes online. I'd been watching local homes for a few years while preparing myself to take the plunge and dive in to selling my soul to a mortgage company. As many of you know, the housing market in Utah started going a little bit crazy last year. It seemed a gamble of whether it was best to jump in right then before things got worse or if it was just a hot year. But I already had other changes in my life coming (farewell to the YSA ward) and I felt it might be time to move on in other ways, too. I'd lived in the Millcreek area of Salt Lake for 7 years and loved the area. But home prices in that area were seriously ridiculous for what you got (except for the prime location, of course…which is why they are so high).
So as summer rolled in, I started a little bit more than casually looking at homes in other areas. Since my top choice of area wouldn't work, I began looking for homes close to family members but still not way too far from work. I scoured RedFin every day and saved my favorites and had lots of fun. But I wasn't that serious about it. Then, I saw a home I thought looked kind of cool. My brother wisely counseled me to get off my computer and go and look at it. He said I'd never get serious about buying a home if I didn't start looking at homes in reality. So I did. And the home was close to family. But as I toured the home… I literally (obviously unknowingly) stepped in doggie doo-doo that had not been cleaned up off the carpet in one of the basement rooms. Bad move, sellers. Not for me.
After that one, I started to really get serious about looking at homes. I went to a few open houses on my own and had my RedFin agent (I loved my experience with RedFin by the way) show me a few other places. Some were nice and some had shrines in the basement. The usual.
I really didn't look at a ton of homes, though, as I had certain requirements…some that are typical of Stitts, such as needing a place to park a utility trailer.
Along the way, I saw (online) a nice white brick home that was close to my sister's home that looked like it had a lot of what I was looking for. But the price was a no-go. So I didn't look at it. And then it went under contract.
Several weeks later, I saw another home that seemed to be what I was looking for. As I looked to schedule a showing, I noticed the white brick home was back on the market. And the price had dropped. It was still not quite what I was hoping for, but…I decided to go see it anyway. I went to see the homes back-to-back. And white brick house was just so much…everything. RedFin agent said: just offer what you feel like you want to pay. The seller can say no, and you shouldn't pony up more than you're comfortable with.
In the housing market last year (and even this year), if you saw a home you liked, you basically had to offer that day. And never for less than asking price. I freaked out for a few hours, but that was all I was allowed to do. I put an offer in.
The seller was…interested in the offer. We negotiated back and forth several times until we felt OK with where we landed. And then the rush of inspection, appraisal, funding, and #allthethings. That's for a different blog.
Clearly, it all came together, despite a few little weird things at the end. And now I've been here a year. One of the reasons I love hindsight is because it can help us be grateful and recognize divine help. There are so many things that worked out just so to help me get into this place. I have loved living here for the past year and have made many wonderful friends. I feel like I am needed and loved at church and in the neighborhood. I've gotten used to the teeny tiny bit more of a commute. I feel like I was led to this area and that it's where I need to be right now. And I love being able to feel that way. It has calmed many other fears and concerns I've had over the past year (which are for another blog).
So what have I done with the home? So many things. Many were cataloged in my Six Months of Home Ownership blog. But some I've done since then!
Painting the House
One of the things I didn't love about the house was the light purple trim. I think they must have been going for a gray, and many people said they thought my home was gray. But I saw purple. And it needed to go.
Thanks to a Memorial Day paint sale at Home Depot, I bought some paint and tested out several colors until I decided a REAL gray color was the best look.
Before
During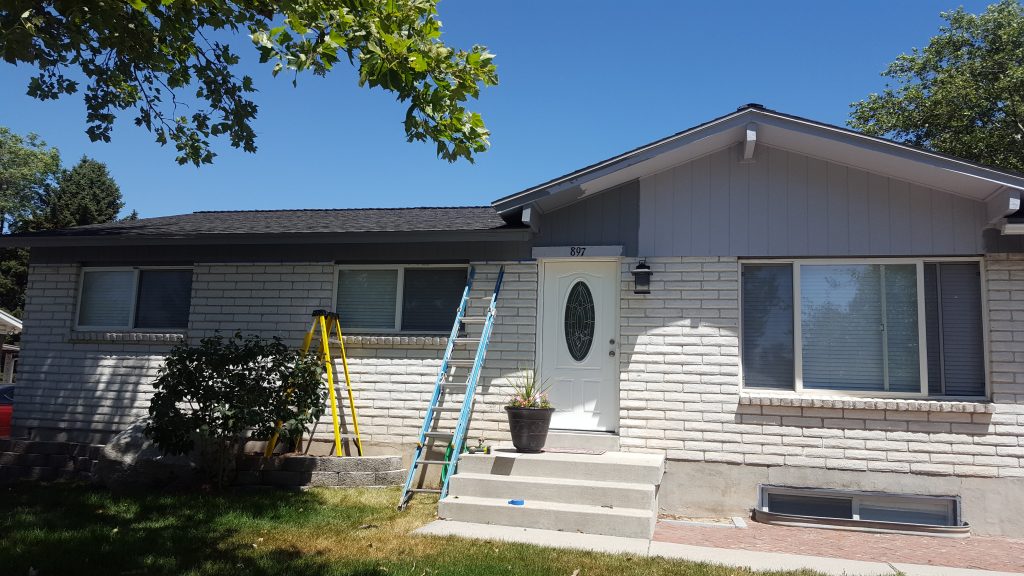 After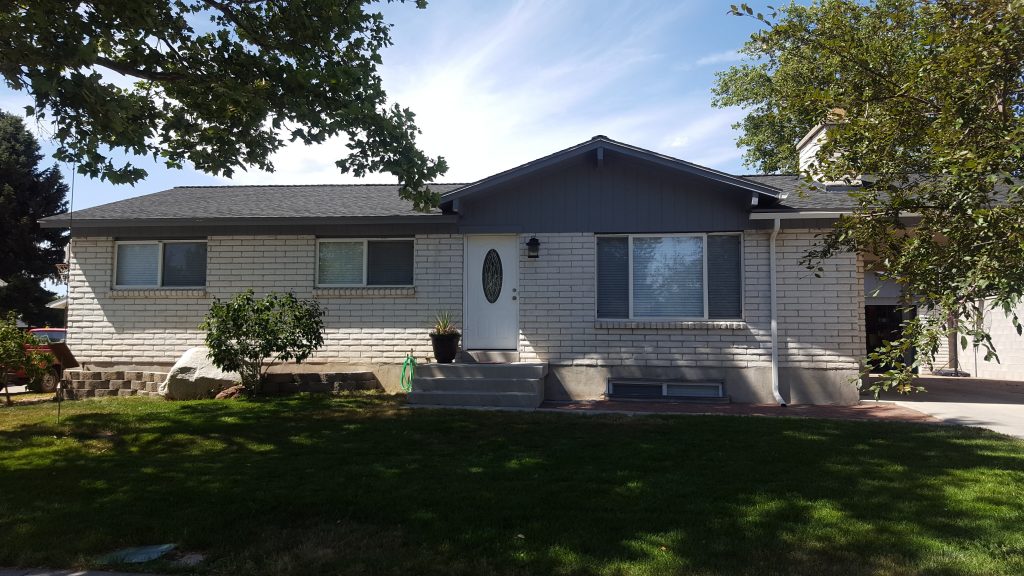 Full disclosure: I have not finished painting the trim on the sides of the house. I was all gung-ho until it was like 100 degrees outside all day, every day. I'll get to that this fall, hopefully…painting party, anyone? I'm the slowest painter in the universe.
Garden
One of the things I love about this house is the huge raised area for a garden bed in the backyard. I love gardening! But it needed mucho work-o.
Garden area when I moved in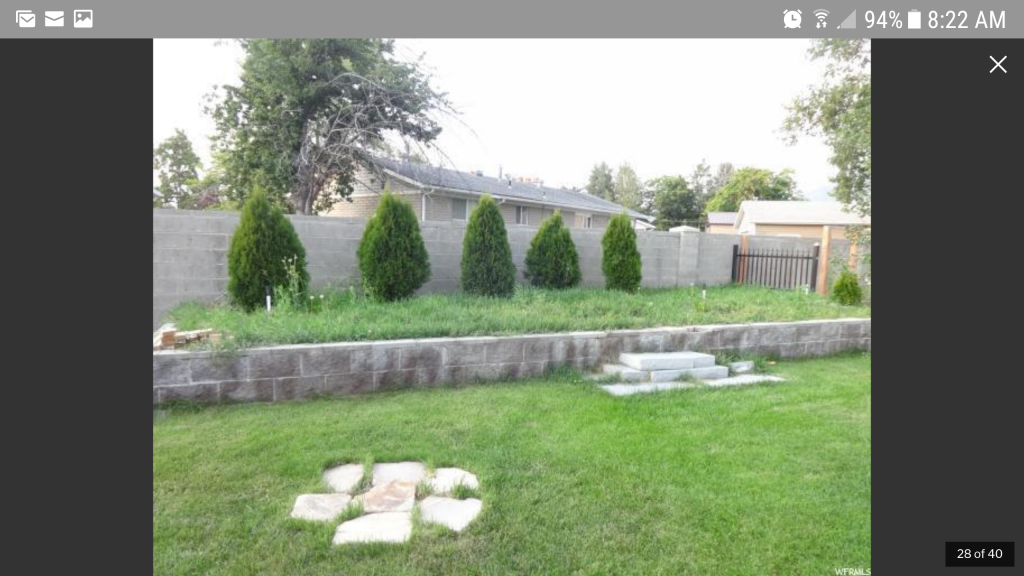 Removed all the shrubs and weeds and tilled the heck out of it. (I know there are opinions about tilling. Please don't share them, haha). Anyway, thanks to my old landlords for loaning the tiller, and thanks to the backyard neighbor who jumped the fence to loan me some gas when I ran out. I did not have a gas can then. I do now.
Garden planted (mostly seeds, a few starts).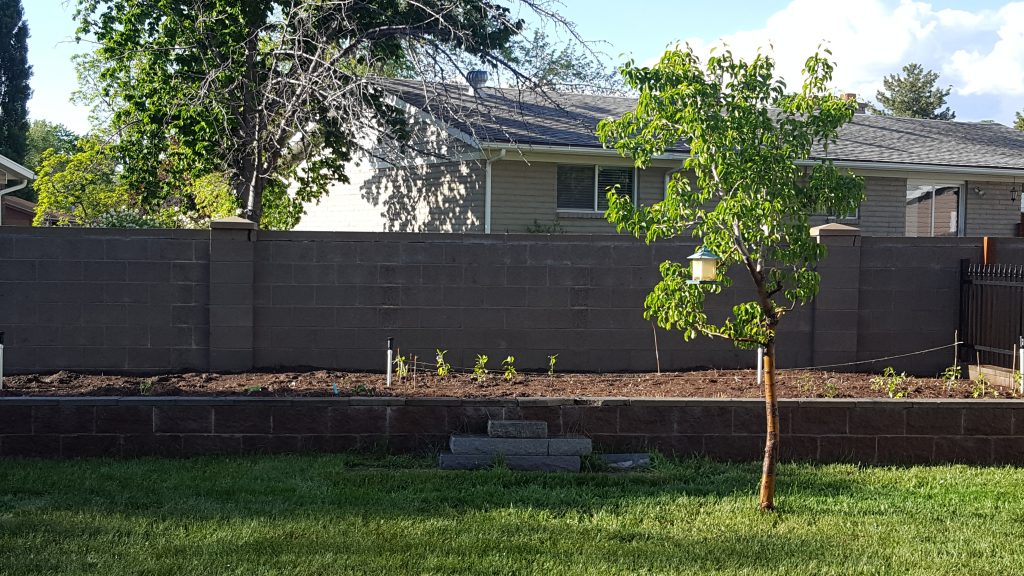 Grow baby, grow!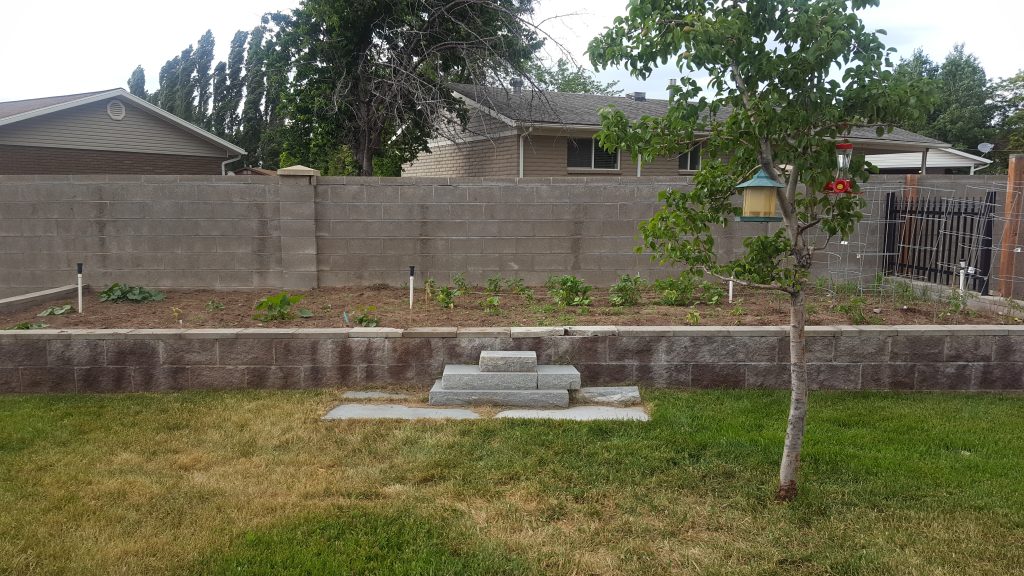 Beginning of July (just ignore the dry spots on the grass. The sprinklers had a rough time for a bit until I fixed one of the heads).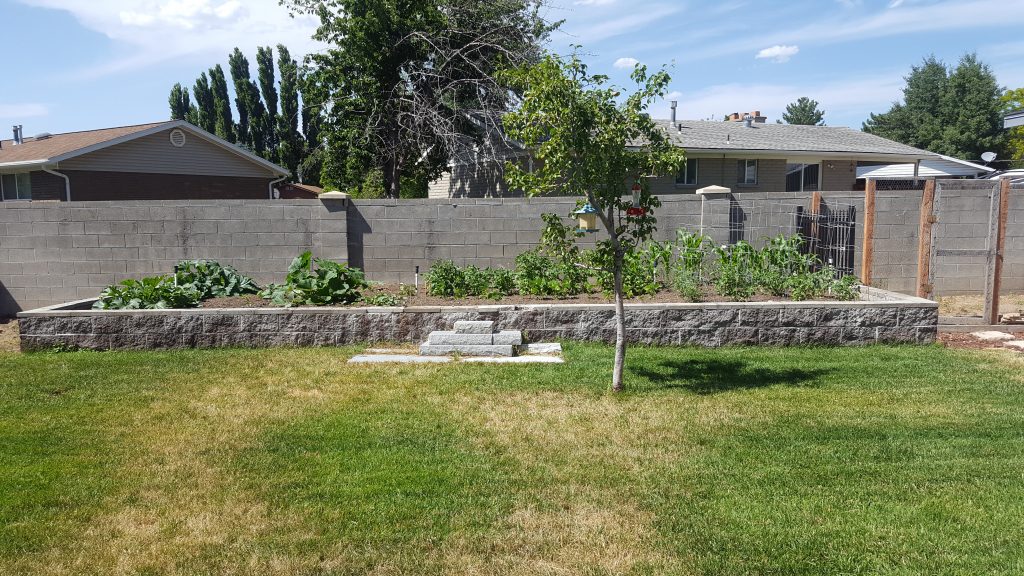 The garden today. The corn has already all been harvested and the eggplants are now dwindling in unbelief after giving me 60 more of them than I knew what to do with. Unfortunately, the squash bugs (despite my insane obsessive tactics) took out two of my plants, but I've been sharing the rest of the squash and zucchini with every person who walks by my house. And pumpkins are prepping for fall!
My front lights
I wasn't too enamored with my front and side lights. Plus, I wanted motion sensor lights/those that come on automagically at dusk and…LEDs. So I went from this: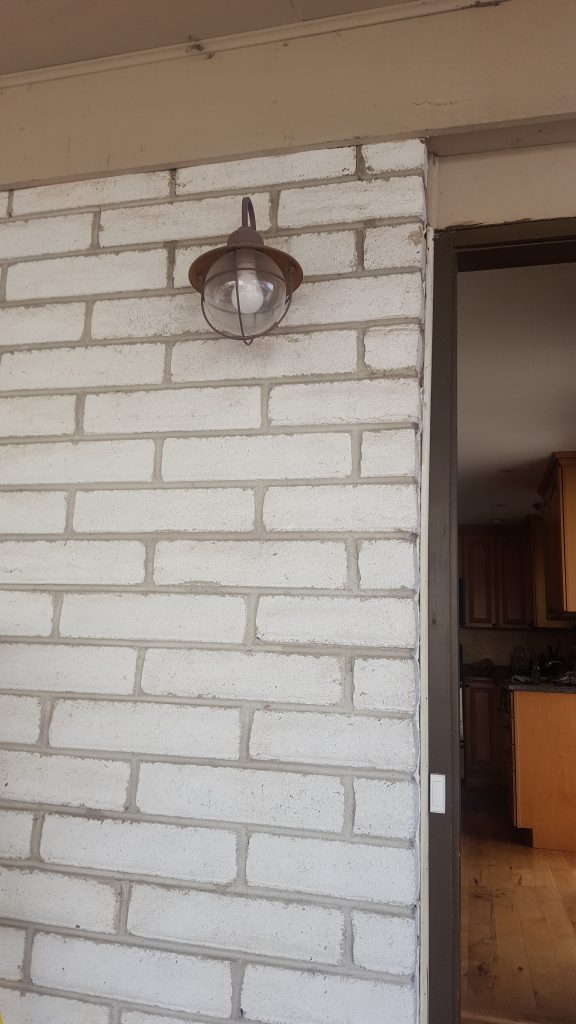 to this: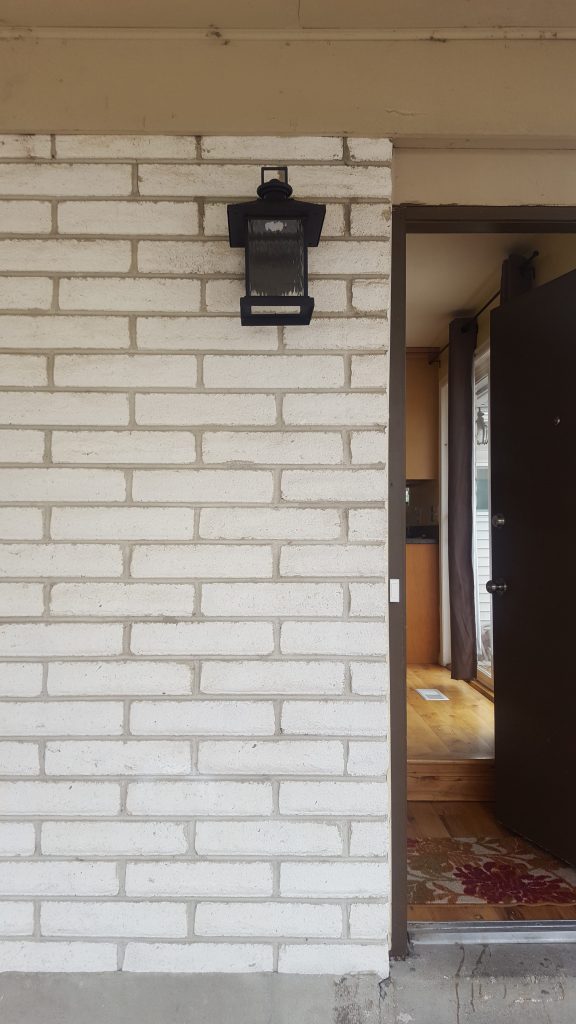 Yes, I installed and wired them myself. And the coolest part? About four seconds after I finished installing the second one, a neighbor walked by and said, "Ahh. New lights? I liked the old ones you had. They were cool." #thanksneighbor #youcanhavethem #icantwin
A few other things
I have a huge list (as any homeowner does) of things I want to change or update or fix or improve. I'm gradually working through that and as I walk around my house, I'm always surprised at how much I've actually done to make it my own. Little things like curtains and rugs. Fun things like a Smart Sprinkler Controller and a wireless-controlled bedroom fan. Green things like getting my trees trimmed so they're not so out of control (I'm talking about you, Mr. Apple Tree).  Silly things like finding the right glue to get my mailbox glued back onto my post. And things like a KSL sectional for the basement and an Ogden Valley Charity Garage Sale coffee table and BBQ grill. It all just puts my stamp on things. (My stamp being thrift and efficiency, haha).
One of the worst things about home ownership so far?
I can't do everything. Some things have to be left to experts (in my opinion). So it's just a little bit annoying that it's so hard to get experts to do work for you. I've called upwards of 10 different concrete companies to give me a bid on a little bit of work. They either 1) never call back 2) call back but give you an astronomically high bid for the work 3) say they'll come and give a bid and never show up 4) come and look at the work and never call back with a bid even when you contact them multiple times. This is true of other work I've tried to get done, too. It's hard to get people for the small jobs (like…replacing one window instead of ten) or things like that.
But…it's nice to know you can change things you want to.
And one of the best surprises of my home? This past spring a whole bunch of flowers bloomed in my front flower bed. When I planted bulbs in the fall, there were already unknown bulbs there that I left for fun. They all mixed together well, including tulips. My favorite.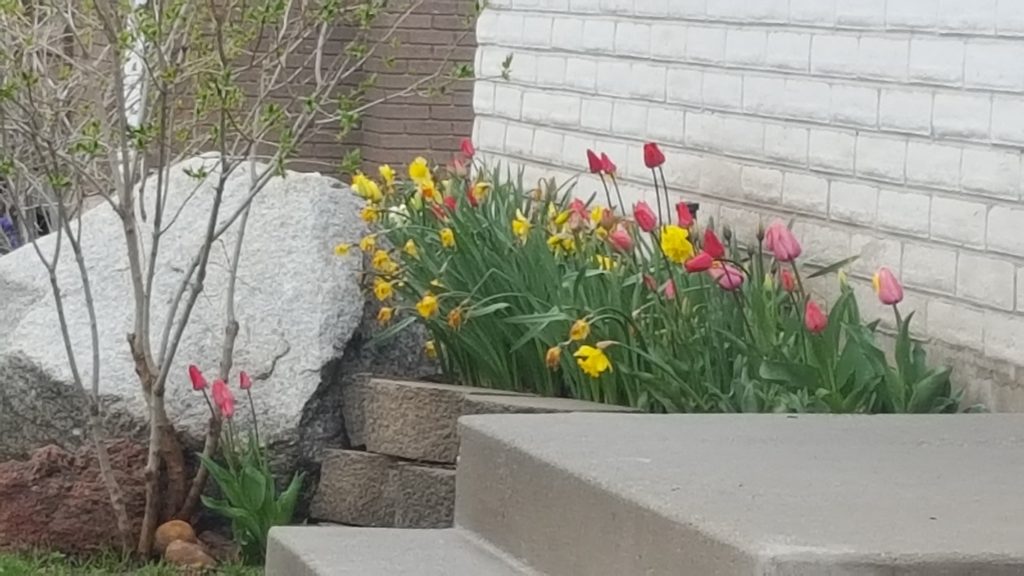 (Visited 383 times, 1 visits today)