Note: Our Relief Society does a little newsletter each month with a message. I was asked to write the message for December and I hemmed and hawed all of November about what to write. The night I needed to turn it in I still had no ideas, until this (the story below) happened, so it became my message. A friend said I should share it more broadly, so in all its simplicity, here we go.
As I was setting up my hand-me-down pre-lit Christmas tree this year, I plugged in the lights to make sure they were working. From my close-up vantage point (aka my nose in the needles), they seemed to be all right. I set up the tree, put all the ornaments on, placed fake gifts (empty wrapped boxes) under the tree, and sat back to figure out how to set up my smart plug that would automagically turn on my lights.
Several minutes later, I actually looked at the tree and noticed a tiny section of lights wasn't working.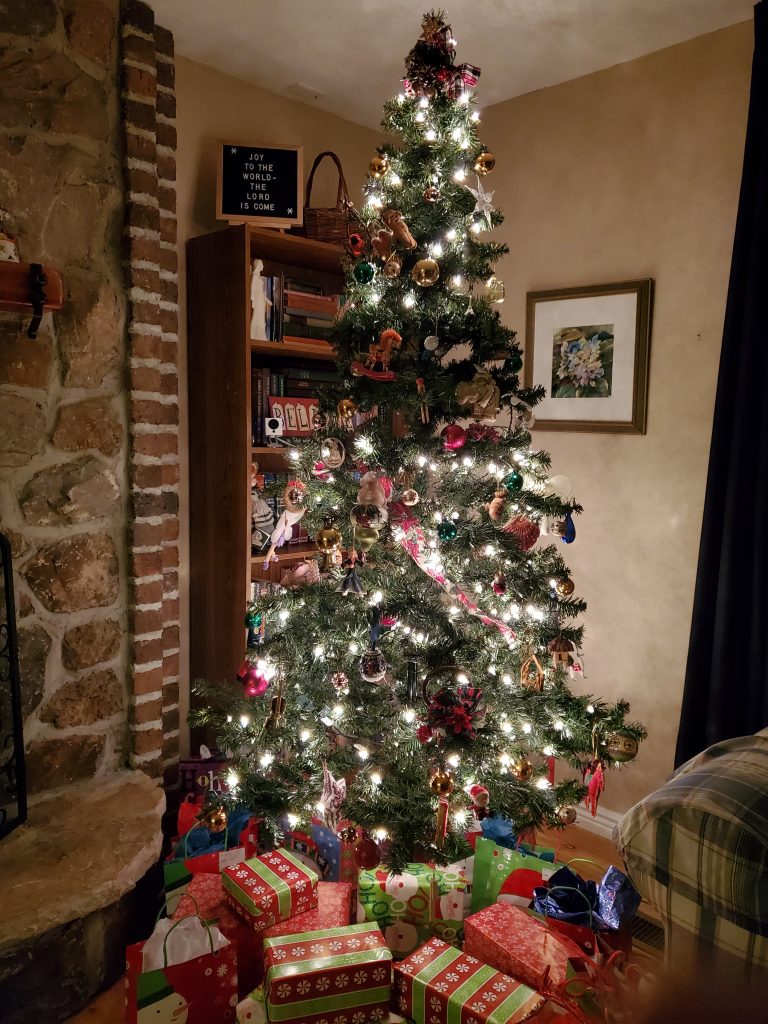 I jiggled things around. I checked the plugs. For no apparent reason other than that sometimes things just don't work, the lights were out. While I'm sure I'll figure out what the problem is or at the very least throw some extra lights in there, it got me thinking.
Sometimes with our nose all up in getting things done, we think our light is just fine. We do #allthethings and then, suddenly, we sit back and realize a little light has gone dim. Maybe it's grief or pain. Maybe it's something someone did or said that is weighing on our minds. Or maybe it's a private struggle few know anything about. And for a moment, our light is dim, or it's even gone out. I am so grateful for the Savior who is the light of the world, who brings us light and fixes all our broken strands. With Him, we never need to worry that one light out means they are all out. I am reminded of this poem by Lon Woodrum:
I met a stranger in the night, whose lamp had ceased to shine;
I paused and let him light his lamp from mine.
A tempest sprang up later on, and shook the world about,
And when the wind was gone, my lamp was out.
But back came to me the stranger—his lamp was glowing fine;
He held the precious flame and lighted mine.
Let us all share our light as we help others seek peace in Christ. Wishing you a joy-filled Christmas.
[Note: I still haven't fixed the light strand. I think it may just be my reminder of my need for light tree this year.]
(Visited 250 times, 1 visits today)